Would be a great gift for your holiday host or to serve your guests in the morning while celebrating the holidays!
This is a really great recipe; the combination of banana and peanut butter is just an all around good thing! Great texture, wonderful taste!
*Tip: Never throw out your very ripe bananas! I always peel them (leave them whole, so you can tell how many you have) and put in a large zipper freezer bag and freeze until you need them. If I know ahead of time that I need them I'll take what I need out and allow them to thaw in a bowl (or if I haven't planned ahead, I just pop them in the microwave for about 40 seconds or until thawed). You will also need to drain off any of the access liquid and discard. This works great and I almost always have bananas on hand to use for bread or cake!
I found this recipe on one of my favorite websites for finding recipes, Allrecipes.com ... Find recipe here!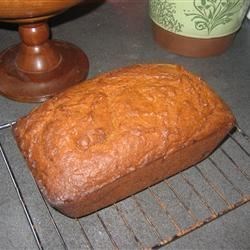 Ingredients:
1/2 cup butter, softened
1 cup sugar
2 eggs
1/2 cup peanut butter
2 ripe bananas, mashed
2 cups flour
1 tsp baking soda
1/2 cup chopped walnuts (optional)
Process:
1. Heat oven to 325 degrees. Lightly grease a loaf pan.
2. Cream together butter and sugar, add eggs and beat well.
3. Stir in bananas, flour and baking soda until blended. Fold in walnuts (if using). Pour into the prepared pan.
4. Bake for about 70 minutes, or until a toothpick inserted into the middle of the bread comes out clean. Remove from loaf pan and allow to cool completely on a wire rack.